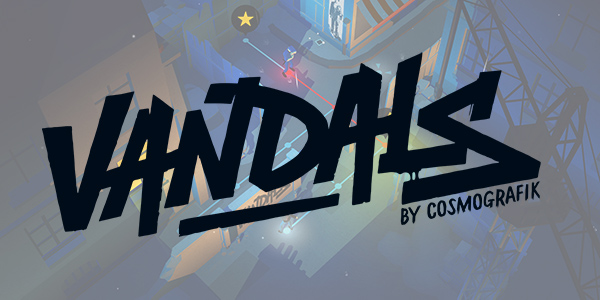 Description
Vandals is a stealth game that will make you travel in the most emblematic cities of street art. In this turn-based game, the goal is to evade police surveillance to paint walls that are increasingly difficult to access.
From Paris to Tokyo via São Paulo, Berlin and New York, you can walk in the footsteps of the greatest street artists such as Blek Le Rat or Keith Haring.
Vandals will allow you to dump your nickname on the walls of New York as Lady Pink, to draw childish characters in the manner of Keith Haring or to inspire you with Miss.Tic poems to write yours.
After Type: Rider, Vandals is Cosmografik's new project. It is a video game edited and co-produced by ARTE, European cultural and TV channel, and Ex Nihilo.
Easy to take in hand, the puzzles promise you hours of immersion and entertainment.
The game includes:
60 puzzles to solve.
5 cities with original graphic worlds.
40 fact sheets on the evolution of street art since the 1960s.
Release date: 25/04/2019
Publisher / Developer: ARTE Experience
Genres: Action, Adventure, Puzzles
Format: NSP
Languages: MULTI (english, french, german, italian, spanish)
Region: FREE / EUR
SIZE : 321 MB