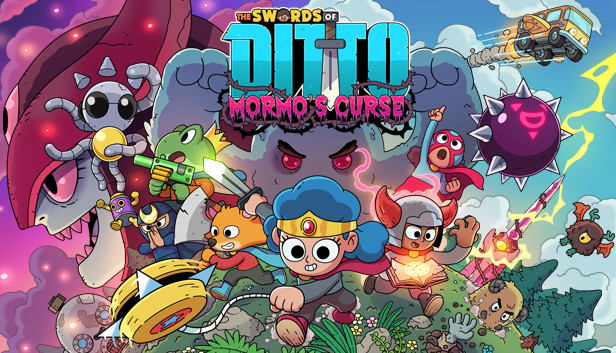 Description
The Swords of Ditto: Mormo's Curse is a successful blend of RPG and third-person action game, offering a unique adventure to each legendary hero who will fight a fierce battle against the evil Mormo. Explore a world as beautiful as it is dangerous and go on the assault of terrible dungeons. As you strive to overcome the evil on the island, you can improve your hero's abilities in a charming village. Take Ditto's Mystic Sword and, accompanied by a partner, get involved in an unforgettable adventure, filled with delightful characters, rich in extraordinary loot and heroic battles!
Unique adventures linked together: each adventure becomes its own legend, both distinct and inseparable from those that preceded it. The actions, successes and failures of each hero have implications for the following, such as the ability to find weapons or recover the loot of defeated heroes.
Solo and cooperative adventures: Face Mormo and his terrible armies alone or invite a courageous partner to take up arms with you in local cooperative mode. Do not worry, even the less experienced adventurers will appreciate the help of their teammates, who can give them a good old-fashioned wake up hug!
Weapons, objects and stickers: use the traditional bow and sword combo, but also a little more unusual things, like a Frisbee vinyl record, a magic golf club or a colossal foot to attack Mormo and his armies. Collect stickers and equip your hero to improve his performance and that of his equipment so that he (or she) is powerful enough to banish this horrible witch once and for all.
Main quests and secret side missions: enter the legend as you see fit, fighting in dungeons in any order, completing side missions in dark caverns and unfathomable wells, or face Mormo from the beginning, if the challenge tempts you.
The Swords of Ditto: Mormo's Curse NSP + UPDATE INFO
Release date: 02/05/2019
Publisher / Developer: Devolver Digital
Genres: Action, Arcade, Adventure
Format: NSP
Languages: MULTI (chinese, english, french, german, japanese, korean, portuguese, russian, spanish)
Region: FREE / EUR
SIZE : 1GB