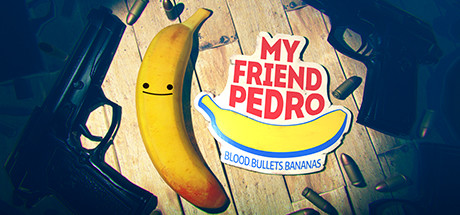 Description
My Friend Pedro is a violent ballet about the friendship, the imagination and the struggle of a man who, driven by a banana endowed with conscience, seeks to annihilate all those who get in the way. Using the double aim, slow motion and unmissable passages through the windows, create a series of sensational and action-packed tableaux and survive an explosive fight against thugs who will not hesitate to use the strong way .
A deluge of choreographed balls: Sow destruction while keeping control over your weapons and your body. Turn and use your hands independently to target two priority targets directly, or plan a ricochet at the perfect angle to settle his account to a gangster who has not seen anything coming.
A bit of variety: to change frantic racing and shooting phases, you can enjoy even more dynamic sequences such as a motorcycle chase, or slow down the pace to solve a series of clever puzzles (and probably deadly) based on physics.
Raise your foot and display your exploits: when the action becomes too intense, give your nerves a moment of respite and take the time to aim by activating the idle. And to easily share the most unlikely moments of your adventure on social networks, feel free to use the GIF automatic generator built into the game!
My Friend Pedro NSP + UPDATE INFO
Release date: 20/06/2019
Publisher / Developer: Devolver Digital / Deadtoast
Genres: Action, Arcade, Adventure, Platforms
Format: NSP
Languages: MULTI (English, French, German, Spanish, Portuguese, Russian, Japanese, Korean, Chinese)
Region: FREE / EUR
SIZE : 3.95 GB
http://evassmat.com/WVcc
update v65536
http://evassmat.com/WVdB
https://ouo.io/5QC542
update v65536
https://ouo.io/XPhS4zH
My Friend Pedro REPACK eShop NSW VENOM
https://ouo.io/bXjwVHY
update v65536 (My Friend Pedro REPACK update v1.0.1)
https://ouo.io/7NkKQg