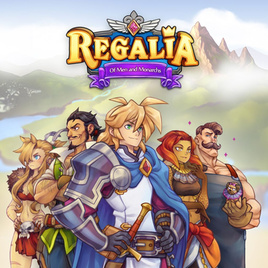 Regalia: Of Men and Monarchs is a tactical RPG where it is a question of returning his glory to a fallen kingdom. Embark on an adventure worthy of the best JRPGs of the time: form a group of valiant heroes, manage your kingdoms, make alliances and defeat your opponents in fierce battles turn-based!

At the death of your father, you inherit a beautiful country, far from everything ... The problem is that your kingdom is drowning in debt. In this resolutely old-school adventure, it's up to you to restore the tarnished coat of arms of your family!

Embark on a journey punctuated by heroic turn-based battles, diverse and varied quests, and unique bosses.
Get acquainted with intrepid, colorful characters who will help you on your journey.
Humor in shambles and adventure to resell ... as for example, samurai dwarves?
Hours of challenging gameplay that will revive your memories of the best JRPGs of the past.
EUR : MULTI
FORMAT : NSP
SIZE : 1.59 GB