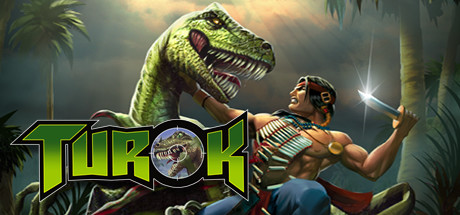 Description
Turok is back and the dinosaurs are in danger! In its first release in 1997, Turok introduced players to a world teeming with smart enemies, traps, mysteries and lethal weapons, all in a vast 3D environment ready to be explored. Today, this video game classic has been refurbished and improved with a new visual engine and exciting new features that are more real than life!
The lost World…
A world where time has no meaning and where evil knows no bounds. Torn from a long-lost world, Turok, the warrior traveler of time, finds himself propelled on a wild land devastated by wars. An evil lord named Veteran seeks to destroy the temporal system and rule the universe using an ancient object known as the Chronoscepter. The Chronoscepter was destroyed thousands of years ago to prevent it from falling into evil hands. The Veteran has built a huge amplifier that he plans to use to increase and pervert the power of the Chronoscepter so as to spray the barriers that separate the ages and dominate the universe. Turok vowed to find the eight pieces of the Chronoscepter scattered throughout the Lost World and put an end to the Veteran's evil plot ...
To learn more, enter the world of Turok.
A Virtual World while 3D
Run, jump, climb in all directions in a 3D world: you can now look everywhere and aim up, down or on the sides with your weapons.
Intelligent Enemies programmed to be ferocious
Variable aggression profiles assigning each enemy a unique behavior.
14 Monstrous High Technology Weapons
From the Grenade Launcher, the Plasma Pulse Rifle, the Alien Weapon and the Quad Rocket Launcher, plus the most powerful weapon of all: the Atomic Fusion Gun!
Advanced Interactive Backgrounds with Particle Technology
The webs of spiders sway. The bubbles form circles on the surface of the water. The bullets ricochet. The trees catch fire and crash on the ground. The waterfalls bubble with foam.
Bionic Dinosaurs
Raptors with sharp teeth like razors. Triceratops armed to the teeth. Alien Infantry and Laser Guided T-Rex. It follows all your movements thanks to a technology of follow-up of the head.
Release date: 18/03/2019
Publisher / Developer: Nightdive Studios
Genres: Action, Adventure, FPS
Format: NSP
Languages: MULTI (english, french, german, italian, spanish)
Region: FREE / EUR
SIZE : 202 MB