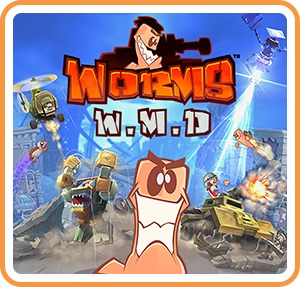 Description
Worms are back in a game more destructive than ever. With its stunning 2D hand-drawn graphics, its vast arsenal of weapons, vehicles, buildings and manufacturing system, Worms W.M.D offers the best Worms experience of all time!
In Worms W.M.D on Nintendo Switch, players will be able to enjoy all the campaign missions, levels, customizations and updates (including Liberation and the very popular strong mode) from home, or on the go.
Worms W.M.D on Nintendo Switch lets you play with one Joy-Con, wireless local multiplayer *, or multiplayer online ** games in merciless, tactical and hilarious worm battles. So, wherever you are, pack your concrete donkeys, pick up your holy pomegranates and put on your super sheep's cloak to wreak havoc on your enemies in this more chaotic Worms game than ever!
Worms W.M.D SWITCH NSP + UPDATE INFO
Publisher : Team 17
Developer (s): Team 17
Genre / Type: Action / Shooting / Strategy
Release date: 23/11/2017
Format: .NSP
Language: Multilanguage
Region: EUR
SIZE : 5 GB